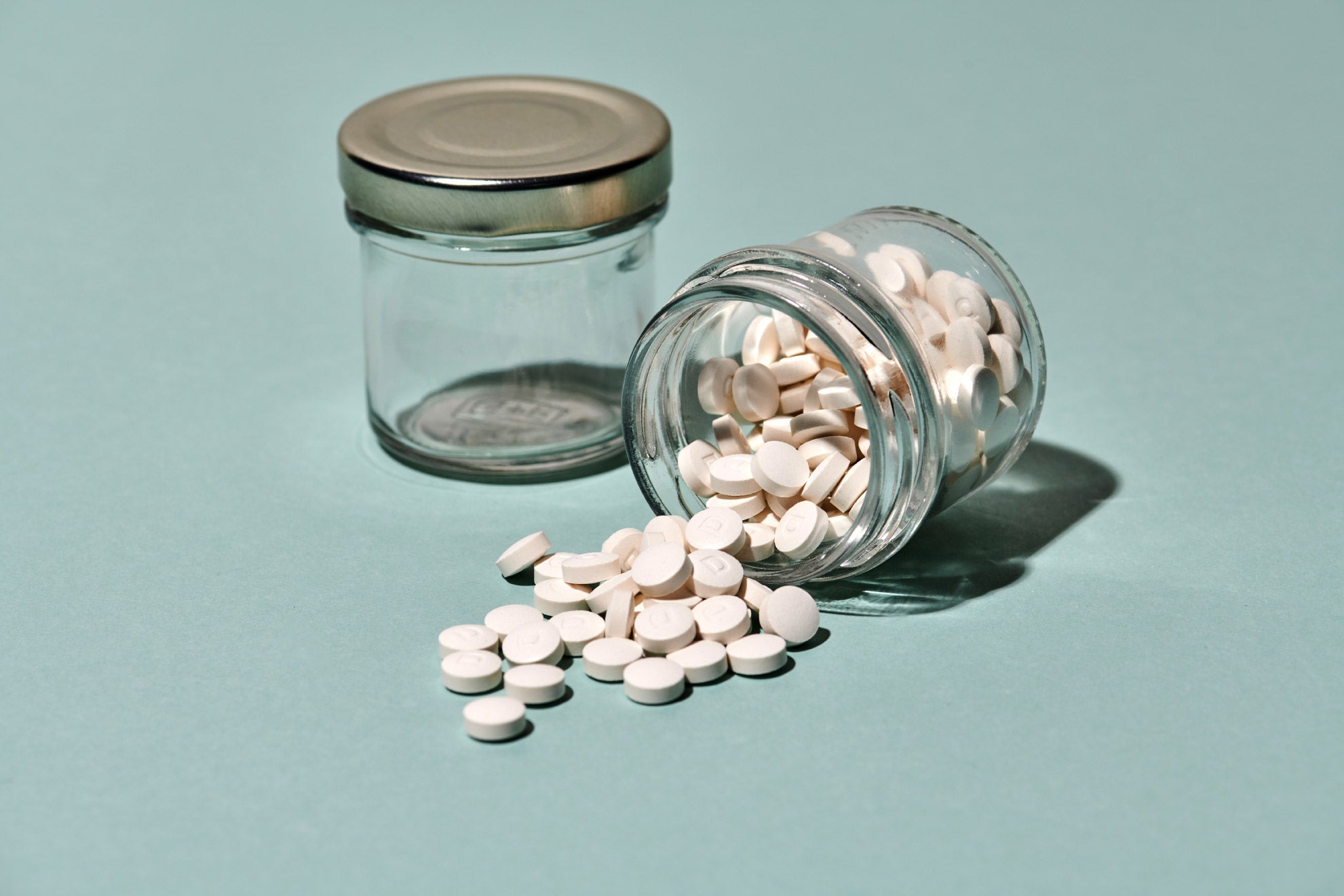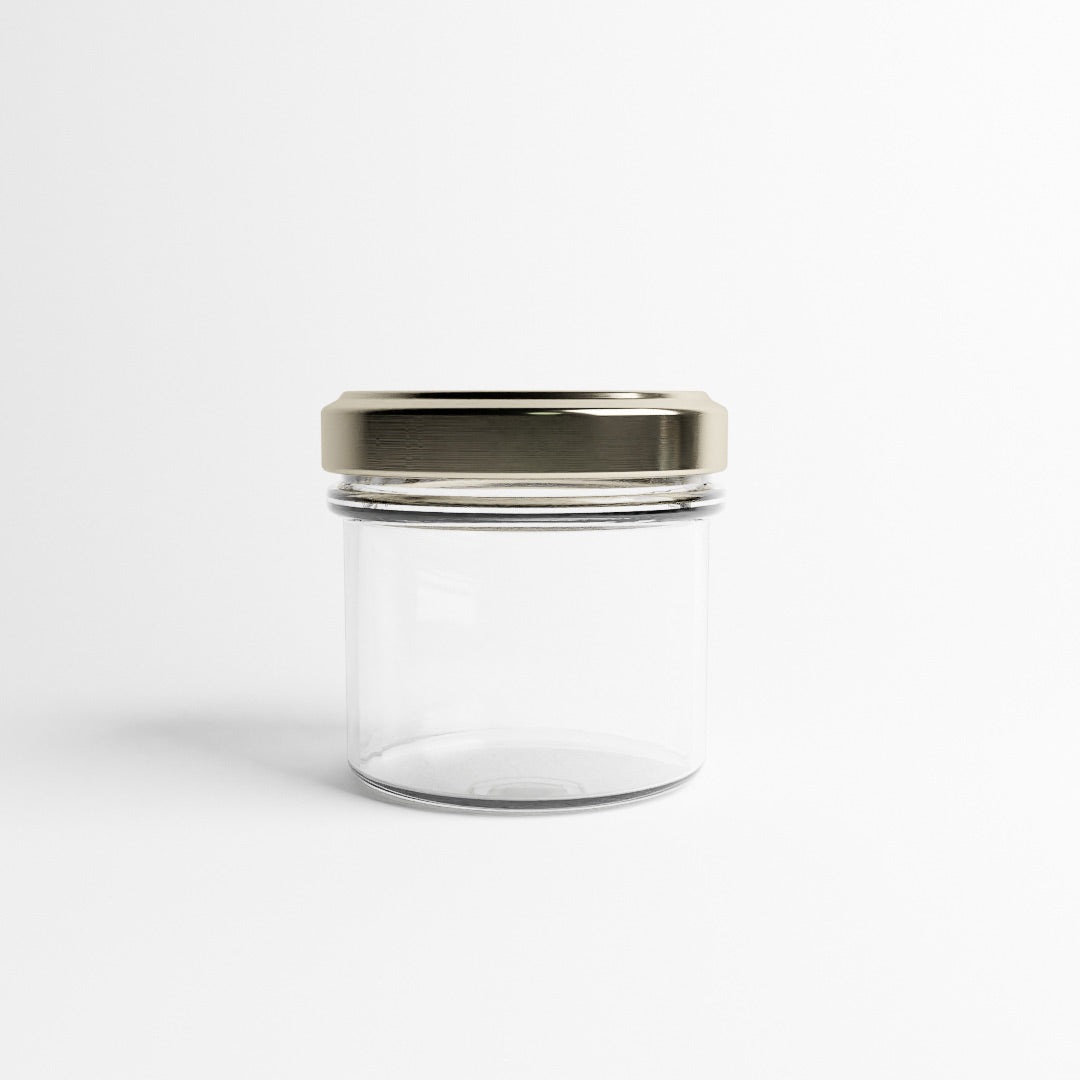 Description
Climate-neutral shipping
Info
Our stylish storage jar holds 125 Denttabs toothpaste tabs. Made in Europe, the jar keeps the toothpaste tabs fresh and stores them airtight. The jar is sold without toothpaste tabs.

The package shipment is climate-neutral via DHL. Delivery takes about 1-3 business days within Germany and about 3-5 business days within the EU.
.
Volume: 72 ml Color
white (clear glass) 
Height: 54,5 mm
Diameter: 54,8 mm
Opening: Ø42,5 mm
Lid color: silver
Practical
The jar has a capacity of 72ml and offers enough space for a bag of 125 Denttabs toothpaste tabs.
long-lasting freshness
The jar ensures safe and dry storage of the toothpaste tabs.
Made in EU
The glass is produced in Europe. For Denttabs, short transport routes and local manufacturers matter.
FAQ
Why do you sell toothpaste tabs in your current packaging and not in glass jars?
Denttabs toothpaste tabs are regularly repurchased and thus have a large CO2 saving potential that we would like to generate.
The fact is: glass does not have a good life cycle assessment (LCA). This is mainly because it has a high material weight, and thus CO2-intensive transport has a high negative impact on global warming potential. In addition, sand used for the glass is often sourced abroad and in the rarest cases from Germany, which has an additional negative impact on the LCA. In addition, the energy expenditure of glass production is enormously high.  
In addition, if we fill a truck with Denttabs, vehicles could only carry a fraction of the goods than if we fill Denttabs in a jar instead of in our bag.  
With our current industrial compostable packaging, we have a lightweight, environmentally friendly package with a low volume and short, efficient transport distances that have a positive impact on the eco-balance. 
We would like to encourage our customers* to buy a jar once, for example, in our online store, and refill it again and again to find an actual ecological product in the bathroom. 
What is the shelf life of Denttabs once the sachet is opened?
If you make sure that the toothpaste tabs are always stowed closed in the bathroom and stored in a dry and airtight place, you can still use Denttabs for the next 12 months after opening them.
Use in the morning and evening
How to brush with the toothpaste tab
1. Chew tab.
2. Moisten toothbrush.
3. Brush teeth as usual.
Good
I would love it to foam and I'd love it to whiten as well
Chices kleine Glas
Gut, dass ich meine alte Plastik-Denttabs-Pöttchen entsorgen kann und auf Glas zurückgreifen kann.
Super
bin zufrieden und werde mir die Tabs wieder bestellen
Zahnärztin hat's genehmigt
Meine Zahnärztin war zuerst skeptisch: Zwar gut für die Umwelt aber vielleicht nicht gut für die Zähne. Sie hat's nachgeprüft und festgestellt: Alles gut, Inhaltsstoffe richtig, Grad der Abrasivität in Ordnung. Deshalb keine Bedenken, also zu empfehlen.